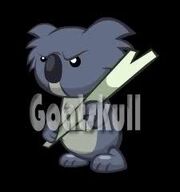 GoatSkull is an artist just like Migo1090. He is a rival of Migo1090 and his design is quite similiar to Migo1090. However, his designs are a little brighter and lighter than Migo's.
Achievements
Edit
Created the Wild Ones New Design fan page, but he later deleted it for some unknown reasons.
4th place in Wild Ones Mini-Pet Design Contest.
Ad blocker interference detected!
Wikia is a free-to-use site that makes money from advertising. We have a modified experience for viewers using ad blockers

Wikia is not accessible if you've made further modifications. Remove the custom ad blocker rule(s) and the page will load as expected.